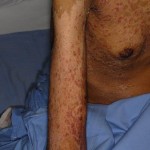 AIDS-like symptoms disease has been discovered in Asia.  The new disease is not associated with AIDS but has symptoms like AIDS.
Patients with this disease are producing antibodies which attack the immune system.
The disease strikes adults thus been referred to as an adult-onset immunodeficiency syndrome and more prevalent in the Southeast Asia.
AIDS-like symptoms disease a syndrome
It is not viral (virus) like AIDS but a syndrome like AIDS with Aids-like symptoms. An autoimmune disease, unclear why the body is making antibodies that fight the immune system.
It fights and damages the immune system that living one venerable to attacks by other germs since the body is unable to fight back.
Right now there is no cure to this disease and patients are only being treated of other infections associated with it.
The Bible is true
North, south, eats or west, God proofs that He is the true living God. These are the last days, End Times, and if you have an ear, hear. No single God's word will pass without been fulfilled.
There is a cure for all diseases. Only Jesus Christ is the cure but many have no time for Him or even time to study His word. The world will overcome you but those who seek Him, the world will never overpower them since He overpowered it.
Jesus Christ is the cure, take time for his word here.