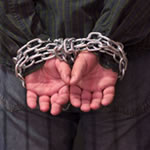 Christians are not under the law. They have fulfilled and fulfill the law through Jesus Christ; the main purpose of His death on the cross.
See the purpose of Jesus death.
Reasons Christians are not under the law
1. The law was destroyed
The main purpose of Jesus death was to destroy the law and save man. This was achieved when the law was nailed on the cross but Jesus left the law nailed on the cross and brought salvation to humanity.
Col 2:14: Blotting out the handwriting of ordinances that was against us, which was contrary to us, and took it out-of-the-way, nailing it to his cross.
2. Being a Christian is living under grace not under the law
The word Christian comes from the word Christ. Being a Christian is being Christ-like which is being under grace not under the law thus Christians are not under the law.
Jesus is a Jesus of grace not of the law and He does not mix Himself up; you cannot mix a new wine into an old wine.
3. Law was preparing the way for the master; Jesus
The law was a school master preparing the way for the master (Jesus Christ) and after the master come, the law ceased to exist.
Gal 3:24-26: Wherefore the law was our schoolmaster to bring us unto Christ, that we might be justified by faith. But after that faith is come, we are no longer under a schoolmaster. For you are all the children of God by faith in Christ Jesus.
We Christians are with the master.
4. The law is a shadow of Jesus Christ
Heb 10:1: For the law having a shadow of good things to come….
When a friend/relative or any close person you have missed tells you s/he is coming to visit, and when s/he comes what appears first is his/her shadow, and you go hugging and kissing this shadow and when your friend appears, s/he finds you having 'quality time' with the shadow to a point you cannot recognize him/her.
Will you friend not definitely be mad with you?
Many people are busy intimate with a shadow while the real man is standing beside them watching and waiting to be welcomed and many are not letting the shadow go to welcome and invite the real person.The law is a shadow, the real person is Jesus Christ.
5. Law is slavery, Christianity is freedom
Christianity is freedom.
Gal: 5:1: for freedom Christ has set us free, stand fast therefore, and do not submit again to a yoke of slavery.
Jesus set us free from all form of slavery; free from law, tradition, religion and legalism which requires responsibly. Legalism totally destroys the power of the Gospel.
Christianity is not a religion but a relationship with Jesus Christ.
There are preachers and teachers of the word out there who are preaching another gospel. They are taking Christians back to slavery (law) and this is crucifying Jesus Christ again.
Indeed after having been delivered from the law, to deliberately place ourselves once again under its [control] is said to be 'falling from grace'.
Heb 6:6: If they shall fall away, to renew them again to repentance; seeing they crucify to themselves the Son of God afresh, and put him to an open shame.
Gal 5:4: You are severed from Christ, you who would be justified by the law you have fallen away from grace.
Paul shoots it straight in Romans 10:4 Christ is the end of the law for righteousness to everyone who believes.The law includes circumcision which he had to deal with in the early church. The Jews said that for the gentiles to be Christians, they had to be circumcised.
Many people are denying themselves freedom by going back to bondage. They have put Christianity to be a responsibly with rules, laws, duties, roles and all forms of slavery and not a respond and focus on Jesus Christ. Many Christians have been killed by this slavery found in some divisions of Christian churches.
Christianity has become a heavy burden and yoke to many. Jesus said, 'for my yoke is easy, and my burden is light (Mt: 11:30). 
The heavy burden in Christianity is brought by scoffers and Satan agents burdening Christians with responsibilities until they give up on their Christianity walk.
Stand firm on the faith I have taught you: faith which is not mixed with the law and be free (freedom).
Gal 5:1 Stand fast therefore in the liberty wherewith Christ has made us free, and be not entangled again with the yoke of bondage.
God bless