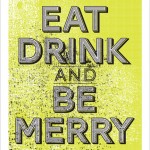 The parable of the rich man is a study of contentment and this is a continuation from the article: You shall not covet.
And he spoke a parable unto them, saying, 'The ground of a certain rich man brought forth plentifully. And he thought within himself, saying, what shall I do, because I have no room where to bestow my fruits? And he said, this will I do: I will pull down my barns, and build greater; and there will I bestow all my fruits and my goods. And I will say to my soul, Soul, you have much goods laid up for many years; take your ease, eat, drink, and be merry. But God said unto him, you fool, this night your soul shall be required of you: then whose shall those things be, which you have provided? So is he that lays up treasure for himself, and is not rich toward God.' Lk 12:15-21.
Blessings and riches are good and they can be dangerous too as seen in the parable of the rich man. Solomon says, 'give me neither poverty nor riches; feed me with food convenient for me: Let I be full, and deny you, and say, 'Who is the LORD?' or let I be poor, and steal, and take the name of my God in vain (Proverb 30:8-9).
This is the best prayer and a good thing every Christian must ask God. Keeping us away from riches makes us not get caught up in worshiping this-worldly stuff, idols, images and toys.
Poverty makes us steal and stealing is taking God's name in vain. Taking God's name in vain is bringing a bad reputation to His Holy name. People know that you are a believer and when you steal, that brings a bad reputation to God's name.
Godliness with contentment: – Parable of the rich man
Paul say, 'But godliness with contentment is great gain' 1 Tim 6:6. We have the so-called 'prosperity teachers' today in Christian televisions. They teach that godliness with great gain gives contentment (the prosperity gospel).
So they teach us to name and claim it, grab and grab it, you should be rich and rich. This is neither logical nor biblical (scriptural). It is not godliness with great gain that will give you contentment, but it is godliness with contentment that will give you great gain.
A content man is not the one who has the most but the one who needs the list. He is the one who says like Paul, 'I do not have needs'. A content man knows that s/he brought nothing into this earth and s/he will take nothing from it.  1 Tim 6:7: for we brought nothing into this world and it is certain we can carry nothing out.
What will you say or do if a million or billion bucks come on your way? When you win that money?  That contest? Will you celebrate and say, 'I will do this' 'I will do that' or will you say, 'let me be careful'. Like the rich man, many of us will forget God at that moment. We will not even thank Him for giving us all that.
From also the parable of the rich man we also see the  Dangers of getting money, riches and wealth
Be blessed.