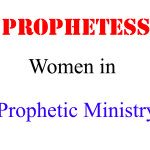 God can call women to prophetic ministry. Women can be God's servants and part of the five-fold ministry.
The five-fold ministry consists of Apostles, Evangelists, prophets, pastors and teachers (Eph 4:11). See church leadership structure.
Women in prophetic ministry
A female prophet is called a prophetess.
Just like a prophet, a prophetess is a person called by God to be His messenger. See who is a prophet and the calling of a prophet.
A prophetess has the same functions as a prophet. See the roles of a prophet.
God can call any person to be His servant
The standards we put to the calling of God's servants are not the standards which God puts.
In fact, God chooses the despised, foolish and weak in the world to shame the mighty. Reason Jesus did not choose the mighty in society, the likes of Pontius Pilate, but He chose the weak, fishermen like Peter, Andrew, John etc.
God places the mighty in positions to accomplish His missions but He chooses the weak in accordance to people's perspective to be His servants and ashamed the mighty in the world.
In doing so, God reveals His power and who He is so that no glory goes to any person but Him alone. If He uses the mighty in the world, people will glorify them not God.
1 Cor 1:27-29 But God has chosen the foolish things of the world to confound the wise; and God has chosen the weak things of the world to confound the things which are mighty. And base things of the world, and things which are despised, has God chosen, yea, and things which are not, to bring to nothing things that are. That no flesh should glory in his presence.
God chooses and calls people to be His servants according to His will and grace. His will does not have to be our will, go inline with our will, minds, reasoning, or whatever the world has taught us.
God is limitless and He moves beyond the box you limit Him in your mind.
Male or female are not factors which God looks at when calling His servants. Remember that every person is created in His own image.
Gen 1:27 So God created man in his own image, in the image of God created he him; male and female created he them.
Prophetesses in the Bible
In addition, marital status is not a prerequisite to be a God's servant. Reason we see women of different status called by God to be female prophets.
Of the ten female prophets mentioned in the Bible: –
Three were married (Deborah, Huldah, and obviously Isaiah's wife)
One was a widow (Anna)
Four were virgins at the time (Philip's daughters)
And two do not even have their marital status mentioned (Miriam and Noadiah)
You say women cannot be God's servants?
Even during the times when women were held low in the eyes of the world, the Bible tells stories of women who God gave positions of power and influence. Look at the likes of Esther.
Prophetesses mentioned in the Bible are: –
1.  Prophetess Miriam
Exodus 15:20 And Miriam the prophetess, the sister of Aaron, took a timbrel in her hand; and all the women went out after her with timbrels and with dances.
2.  Prophetess Deborah
Judges 4:4 And Deborah, a prophetess, the wife of Lapidoth, she judged Israel at that time.
3.  Prophetess Huldah
2 Chronicles 34:22 And Hilkiah, and they that the king had appointed, went to Huldah the prophetess, the wife of Shallum the son of Tikvath, the son of Hasrah, keeper of the wardrobe; (now she dwelt in Jerusalem in the college:) and they spake to her to that effect.
4.  Isaiah's wife
Prophet Isaiah considered his wife a prophetess.
Isaiah 8:3 And I went unto the prophetess; and she conceived, and bare a son.
5.  Noadiah
Neh 6:14: My God, think thou upon Tobiah and Sanballat according to these their works, and on the prophetess Noadiah, and the rest of the prophets, that would have put me in fear
6. Prophetess Anna
Luke 2:36 And there was one Anna, a prophetess, the daughter of Phanuel, of the tribe of Aser: she was of a great age, and had lived with an husband seven years from her virginity
7. Philip daughters
Acts 21:8-9 And the next day we that were of Paul's company departed, and came unto Caesarea: and we entered into the house of Philip the evangelist, which was one of the seven; and abode with him. And the same man had four daughters, virgins, which did prophesy.
We are in the End Time and God has out-poured His spirit as prophesied by Joel and both male and female are prophesying.
Joel 2:28 And it shall come to pass afterward, that I will pour out my spirit upon all flesh; and your sons and your daughters shall prophesy, your old men shall dream dreams, your young men shall see visions.
Who are you then to counteract God's will and block His female servants from carrying out their ministries?
True Churches, open your doors to female prophets (prophetesses) and know that God can call women to prophetic ministry.
God bless