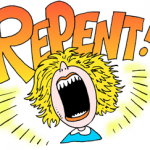 This is the message; Kenya repent before your judgement day. 
I have given prophetic warning signs from God to Kenya of oncoming God judgement to Kenya.
Kenya needs to repent for God to repent His wrath on her.
Many Kenyans will ignore and lie to the fact that things are not rosy in the country but the truth haunts them inside .
God is a faithful and merciful God who never punishes without revealing His will. Lighting, thunder, strong winds and dark clouds are signs of a coming storm.
A dark cloud is hanging above Kenya; sign of God wrath. No Kenyan citizen can deny that s/he has not seeing this dark cloud.
Signs of God judgement to Kenya
From the famine I revealed in March 2012, how Kenya remembered God not, to troubles coming to Kenya in August 2012, Kenya given to terrorists, the message is clear to Kenyans. 'Repent or else you take my cup of wrath' God says.
I revealed how God will work up Kenya ahead of the general election and just strike of a match stick, Kenya explodes. God has achieved and He is achieving this.
From tribalism, political parties being tribal based and forming coalitions according to ethnic groups, to insecurity.
Insecurity was one reason God took Kenya to Somalia to deliver her to terrorists. Yes! Kenya was delivered to terrorists and no Kenyan can deny this fact.
Bombs and grenades have killed many Kenyans even the security agents are not spared. This is not the end but just a start all culminating into the oncoming judgment day.
Criminal gangs are up in arms taking positions ahead of the day. From the MRC in Mombasa, Mungiki in central Kenya, Baghdad boys and American squad in Kisumu and many more.
We have seeing communities rising against each other, recently being the clashes in Eastleigh Nairobi.
God has taken Kenya into captivity that even the security agents cannot secure themselves. What about the innocent citizens? We have seeing Kenya Defence Forces and the Police killed in Mombasa during, Taita-Taveta, and the recent 42 killed in Baragoi.
And more is on the way as Kenya heads to her judgment day. Workers strikes will be back as God collides the Kenya government and its citizens head on after elections.
Who can deny that there is no dark cloud hanging on Kenya. Who can say that Kenya is on the right track? Who is not seeing what is taking place in Kenya?
Kenyans have been ignorant of this God's voice but time is at hand and you will never ignore it no more.
Even the called 'men of God' in Kenya, Christian television and radio stations have been blinded. They are prophesying prosperity when thunder storms and a heavy cloud of judgment is clearly seeing hanging above Kenya. They are ignorant of the facts and the truths.
God's signs are clear; wrath is at Kenyan door step if she does not repent.
God Message: – Kenya repent
It is time Kenyans, all men of God speak in one voice; the Gods voice. Time to listen to the voice of God and do His will. Let Kenyan men of God stop committing adultery with the world, being bought with money, afraid of speaking out the truth, prophesying sweet nothings while the reality is dark and gloomy.
Time for all Christians in Kenya to come out being led by their prophets and all truly called men of God. It is time for Kenya to hold fasting, prayers and repentance rallies and weeks all over the country. Time for Kenya to wake up.
All truly called men of God, pastors, ministers, apostles, churches, Christians, prophet and all Christian television and radio stations  in the country, come out, time is now.
Kenyans come out together and cry to God with one voice and He will repent His wrath on you.
Kenya repent.
Be blessed.