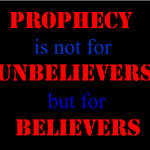 Prophecy is not for unbelievers but for believers. It is for the true children of God not for unbelievers and hypocrites.
Prophecy is the voice and word of God. More than half of the Bible, from Genesis to Revelation is prophecy.
God messengers are called prophets or prophetesses and God calls His prophets. See who is a prophet and women in prophetic ministry.
There are false prophets and true prophets. False prophets are powered by Satan while true prophets are powered by God.
Every Christian must know how to differentiate true prophets from false prophets and the things which do not distinguish these prophets.
Prophecy is not for unbelievers but for believers
1 Cor 14:22 …prophesying serves not for them that believe not, but for them which believe.
God speaks directly to people through His servants; prophets.
When God spoke to people in Mount Sinai during the giving of the Ten Commandments, they trembled and said to Moses,
'Speak you with us, and we will hear: but let not God speak with us, lest we die' (Ex 20:19).
From that time, God stopped speaking to people directly but instead through His prophets like Moses.
It is the prophets who come one on one with the thundering, lighting flashes, sound of trumpet when God is speaking to them.
Ex 20:18 And all the people saw the thunderings, and the lightnings, and the noise of the trumpet, and the mountain smoking: and when the people saw it, they removed, and stood afar off.
God coming down to deliver His message is exceedingly powerful and any God prophet can testify to this. I concur with the Bible that it is not good for people to face this.
Prophecy separates believers (true Christians) from unbelievers and hypocrites.
How you take God's message through a prophet defines who you are.
Prophecy to unbelievers
Hypocrites and unbelievers rubbish prophecy (God's message and voice) and turn to attack the messenger; the prophet.
Ask any God prophet and s/he will testify to this. Personally, because of prophesying the truth to Kenya, hypocrites and unbelievers are abusing and threatening me.
See Kenya judgment prophecy: – Death of Kenya president and earthquake
Hypocrites and unbelievers are against God, His entire message, voice and His servants. No true God servant is accepted by the world.
The world has the spirit of Satan which counteracts anything Godly. The world is the unbelievers and hypocrites.
When a Christian testifies Jesus Christ, the world rubbishes and attacks the believer. They hated and killed Jesus so they will not spare you.
John 15:18-19 If the world hate you, you know that it hated me before it hated you. If you were of the world, the world would love his own: but because you are not of the world, but I have chosen you out of the world, therefore the world hates you.
Prophecy to hypocrites and unbelievers is like giving what is holy to dogs. They will just trample it under their feet and turn to tear the messenger into peaces.
Therefore, 'Give not that which is holy unto the dogs, neither cast ye your pearls before swine, lest they trample them under their feet, and turn again and rend you' (Mt 7:6).
Prophecy is not for unbelievers and hypocrites
Prophecy to believers
Prophecy to believers is God giving direction to His children through prophets reason prophets are the eyes of the church and a congregation without prophets is blind.
See church leadership structure.
God does not do anything without revealing it to His children through His prophets.
Amos 3:7 Surely the Lord GOD will do nothing, but he reveals his secret unto his servants the prophets.
When God gives His message and directs His children through His prophets, as a believer you do not argue, go against, counteract or rubbish the prophecy neither do you abuse nor curse His servants but you obey by doing what God wants.
Do not be worried when God message and voice is rubbished and His servants attacked but the true children of God will heed to God's direction and obey. Reason prophecy is not for unbelievers but for believers.
To God's servants; God prepares you fully and when He sends you out to the world, the spirit powering you is beyond world's power. Have courage and carry out your assignments.
God bless