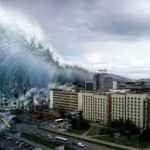 This is prophecy of floods and water devastation coming to earth as revealed to me on 2nd March 2014.
Prophecy of floods and water devastation coming to earth
I saw the earth tilt,
I saw sea waters coming to continents land,
I saw it rain,
I saw the sea and rain waters start filling the land,
I saw coastal lands swept away,
I saw floods,
I saw buildings fill up with water,
I saw people escape; running from continent to continent, from place to place,
I saw sea vessels stack in the sea,
I told people to pray,
They mocked me,
I prayed as they watched,
The earth tilted back to its position,
Sea waters came out of the land back into the sea,
It stopped raining; clouds cleared up and the skies became clear,
People saw what prayers of faith can do,
They marveled,
Then God told me that it is the people to pray and repent not me on their behalf.
Immediately the earth tilted again,
Dark clouds covered the skies,
Sea and rain waters started filling the earth's dry land again,
And I saw judgment coming to world nations and cities,
Then I saw Jesus Christ with marks in His hands come,
Pray, Repent for the Kingdom of God is at Hand.
Mt 3:2 Repent, for the kingdom of heaven is at hand
Lk 13:3 I tell you, No: but except you repent, you shall all likewise perish