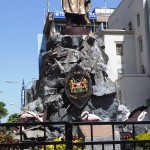 This is the vision of rampant sexual immorality in Nairobi Streets as revealed to me on 14th October 2013.
I was made to walk in the streets of Nairobi and what I saw fully angers God.
Nairobi has been turned to a sex center with her streets dirty with rampant sexual immorality. Many Nairobi buildings have been turned to brothels and Kenyans are even engaging in live sex in the streets.
Kenyans have turned night clubs into sex houses. Rampant sexual immorality is taking place inside these Nairobi night clubs and spilling over to the streets where it has became a norm to see people engaging in sex.
Live sex shows are being held all over Nairobi the core being Nairobi CBD.
Nairobi hotels are prostitution and sexual immorality houses.
Prostitution has rampantly increased to a point were prostitutes and whore-mongers do their business in the open and it has became a norm to see Kenyans engaging in sex in Nairobi City Center.
Sex to unmarried Kenya youths is a norm like drinking a cup of coffee with many Kenya youths having several sexual partners and engaging in sex with every person who comes by.
The institute of Marriage is not respected by Kenyans today and Kenyans have chosen to trample it under their feet. Married men and women are part of this sexual immorality in Nairobi with many having several sex partners.
Rampant sexual immorality in Nairobi Streets
In Tom Mboya street, i saw people cheering on a lady who was engaging in live sex with a man. Another lady emerged and fight broke out between the two ladies.
The place I saw this in the street is exactly the opposite side of where I was placed when God was revealing deserted Nairobi Streets to me. Ugly God judgment is coming down to Tom Mboya Street.
Kenya churches with their leaders are not spared and many are part of this sexual immorality.
Kenya is like Sodom and Gomorrah. Kenya sins are grievous and the outcry against her is great.
Gen 18:20: And the LORD said, Because the cry of Sodom and Gomorrah is great, and because their sin is very grievous
After being taken around Nairobi streets and seen everything, I am rely disturbed by the degree of evil and immorality and because Kenyans do  not want to heed to God's voice and repent.
Kenyans repent.
Your Judgment is at the door.