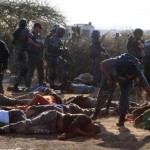 This is a sign of South Africa coming prophecy fulfillment as God wrath is aroused against South Africa (25th September 2012)
Signs of South Africa Coming Prophecy Fulfillment
18th August 2011, God revealed to me 2 countries in trouble; Kenya and South Africa.
See prophecy of Kenya and South Africa trouble 
The killing of miners in South Africa was just a sign of what is coming; a tip-of-the-iceberg. South Africa will dominate the news soon in trouble as the hand of God works wrath in the country.
You south Africans, hear the voice of God
Repent your sins and God will repent His wrath 
Do not be hard-hearted like Kenyans who are now facing the hard signs of Gods wrath.
Watch out and pray
Time is at hand.
Repent Repent Repent