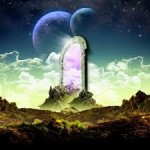 Sin does not close the door of heaven for you and me. We are human, we are sinners and every person is a sinner.
If you deny that you are a sinner, the truth is not in you and you are not a Christian.
1 John 1:8: If we say that we have no sin, we deceive ourselves, and the truth is not in us.
Rom 3:23: For all have sinned, and come short of the glory of God
Sin does not close the door of heaven
Sin makes us sinners but sin does not close the door of heaven for us. In fact where sin abounds grace abounds even much more.
Rom 5:20: But where sin abounded, grace did much more abound.
This does not mean that we live in sin. If we say that we have fellowship with him, and walk in darkness, we lie, and do not the truth (1 John 1:6).
Jesus paid the penalty for our sins on the cross once and for all (one reason of His death). Every person who accepts and believes in Jesus Christ, the ransom of her/his sins is paid.
Therefore there is no judgment for people who accept Jesus Christ but instead they will be crowned in the white throne.
Christianity is being Christ-like, living like Jesus Christ, Him being our role model.
Jesus was with no sin thus righteous and it is Him who makes us righteous through the cleaning of our sins with His blood shed on the cross. All sins are wiped out by Jesus Christ blood except blasphemy of the Holy Spirit.
Sin does not differentiate Christians and unchristians because every person is a sinner.
The only differences between Christians and unchristians are: –
Christians have great faith in God while unchristians do not.
Christians repent while unchristians do not
Christian penalty for sins was paid on the cross once for all by Jesus Christ thus Christians will never be judged while unchristians awaits hell.
Christians are justified and sanctified in Jesus Christ.
Jesus cleaned and continuously cleans you sins thus your sins will never close the door of heaven for you.
If going to heaven is about sins, no human being will be in heaven but the only way to heaven is through Jesus Christ who cleans our sins thus salvation is only by grace through faith.
Since every person is a sinner (both Christians and unChristians), sin does not define a Christian.
A Christian is defined by how fast s/he rises from sin, repents and dusts her/himself up and lives like s/he has not sinned. Remember that when you repent, God forgives and forgets. See how to repent.
Stop focusing on your sins, keep repenting and living righteous only focusing on Jesus Christ your savior from your sins.
Yes! We are sinners. Yes! We keep sinning. Yes! We have thorns in our flesh. This does not draw us far from God but instead God comes closer to us.
Keep fighting temptations and sin, repenting and living righteous. Know and believe that each second you sin and repent, Jesus Christ washes your sins away, forgives and forgets sanctifying you.
Sin cannot close the door of heaven for you and me because Jesus opened it for us with His blood and nothing can close it except denying and not believing in Him.
Stop focusing on your sins, focus on Jesus, live righteous and heaven is your inheritance.
God bless.