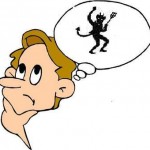 The source of sin in man is Satan. He is at the crux of sin. His name means 'Adversary'. He is against God and everything Godly.
Satan is a destroyer and the spirit that emanates from him, that drives this world and produces sin is a destroying spirit.
Sin produces negative results.
Major source of sin in man
1. Corrupt thinking
Sin begins in our minds and then dirties the heart (soul). It starts with harmful thoughts, desires and attitudes as said in carnality.
Paul reminds us that 'we all once conducted ourselves in the lusts of our flesh, fulfilling the desires of the flesh and of the mind, and were by nature children of wrath, just as the others' (Ephesians 2:3).
Jesus Christ emphasizes this when He says that, 'But I say to you that whoever looks at a woman to lust for her has already committed adultery with her in his heart' (Mt 5:28)
Jesus cited the evils of anger, hypocrisy and lust to illustrate this principle.
Apostle Peter likewise understood that sin is the product of corrupted thinking. When rebuking Simon the sorcerer, Peter advised him,
'repent therefore of this your wickedness, and pray God if perhaps the thought of your heart may be forgiven you' (Acts: 8:22).
Sin is addictive
If we continue sinning, we feel ill, at ease and unhappy about it but gradually our consciences will adjust. Each sin makes the next one a bit easier. Over time, the conduct become entirely acceptable and sin without a qualm.
Sin is addictive like a drug. As the addiction becomes stronger, the ideal depreciate until it is completely gone. See the effects of sin.
Sin produces more sin: James 1:12-16 lists the steps leading to sin, beginning with temptation.
People rarely stop at just one sin and it is often not long before they add another and another to the chain.
Jeremiah describes this course of sin in his day—the same process that is likely to occur in anyone's life.
'And like their bow they have bent their tongues for lies. They are not valiant for the truth on the earth. For they proceed from evil to evil, and they do not know me', says the LORD' (Jeremiah 9:3).
This is a major reason God uses leaven to symbolize sin. As leaven spreads and does its work in flour, so sin spreads and corrupts the lives of all it touches.
Sin enslaves
Sin enslaves. When will is destroyed and conscience is corrupted, the result is sin slavery.
When a person sins, he is not really doing what he likes but what sin dictates
Paul says in Romans 7:17, 23: 'But now, it is no longer I who do it, but sin that dwells in me. . . . But I see another law in my members, warring against the law of my mind, and bringing me into captivity to the law of sin which is in my members'
Even though a person may enjoy sin while he is doing it, the person is not in control—sin is! This is doubly true when one sins with knowledge.
We must be very careful of this because Jesus warns, 'Most assuredly, I say to you, whoever commits sin is a slave of sin' (John 8:34).
Having gained our freedom through Christ's sacrifice and God's gift of the Holy Spirit, we do not want to be brought back to bondage.
In addition He says in the next verse, 'And a slave does not abide in the house [God's Kingdom] forever, but a son abides forever'.
Next source of sin is;
2. Temptations
God does neither tempt people nor make them sin.
Let no one say when he is tempted, "I am tempted by God"; for God cannot be tempted by evil, nor does He Himself tempt anyone. But each one is tempted when he is drawn away by his own desires and enticed. Then, when desire has conceived, it gives birth to sin; and sin, when it is full-grown, brings forth death. Do not be deceived, my beloved brethren (James 1:13-16).
And if a trial or temptation comes over you, you can get victory over it. There is no trial we cannot win.
1 Cor 10:13: No temptation has overtaken you that is not common to man: but God is faithful, and he will not let you be tempted beyond your strength, but with the temptation will also make the way of escape, that you may be able to endure it.
Let's watch out for this sources of sin in man.
God bless you.