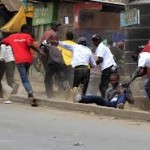 This is prophecy of terror fear striking the streets of Nairobi Kenya as revealed to me on 20th April 2015.
Terror Fear Strike the Streets of Nairobi Kenya Prophecy
People started running in Nairobi
I heard them say, 'Al-Shabaab' and as they ran
And every person in the streets joined running for their dear life
They were all running from a certain direction
One of the big-streets had a great multitude of people running
The Spirit told me that they are running to the wrong direction
And Yes! They were running towards the source
I saw a man issuing orders to the multitudes as they reached where He was
He was telling the multitudes to face down with hands up
I saw a large multitude of people bowing down with their hands up
Some of them were school children in school uniform
I saw some people on the scene alighting from a bus whose window had been broken
God judgment is here Kenya
For your own soul salvation, Repent!