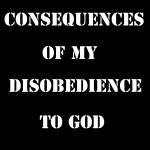 This is the testimony of consequences of my disobedience to God which is a continuation from My life my testimony part-1: – testimony of how God instructed me not to look for a job.
After disobeying God and looking for a job for three months from June to August 2011 all in vain, God came in a vision in the last days of August 2011.
He told me that since I have disobeyed Him there are consequences.
Testimony of consequences of my disobedience to God
These are the consequences:-
1.     Taking away of my education certificates
In the vision, God told me that He is going to take away all my education certificates until an appointed time which I will not reveal now. But when He gives back the education certificates at that appointed time, I will have no need of them forever.
Immediately by the end of that month of August 2011, all my original education certificates disappeared miraculously. I searched for them but all in vain.
In October 2011 I tried to replace them by getting others from the national education offices but surely God had shut all doors. The same month of October after I had tried to get others, God come in a vision and revealed where He has kept my education certificates but instructed me not to go look for them because I will not see them.
December 2011 I was where God revealed my certificates were and I was curious to look. I looked but I did not see them.
Up to today, I do not have any of my original education certificates and I trust God so much with my life in His hands. I know everything He does is all for my good. I trust Him so much that I do not question Him with everything He does to me.
2.     Separation between my family and I
God told me that He is going to bring a wide gap between my family and I. From September 2011, a wide gap was miraculously created between my family and I.
My parents did not want to hear anything about me. According to them, I was a big failure. The few times we talked were only for them to express their bitterness. When I say the gap was wide, it was really wide.
The year 2011 ended, 2012 was here, the gap wide and growing wider each day and night.
December 2012, God miraculously intervened. You claim that there is no God, see what He did.
God miraculous intervention
A man I have never seen, have not seen up to today and I did not know but known to my parents was used by God. God revealed to him in a vision what I was going through and parts of my future life (which all I know) and he was sent.
I know my future because God has revealed it to me and God only revealed some few details about it to this man.
February 2013 is when I was told of this miraculous God work and I also learned, from my family and neighbors in the village, that this man sees visions and dreams dreams and he is a priest.
That man has never seen me up to today, he did not know who my parents were and I do not know if he knows today. When he was ministering in the village, he described me exactly, even naming the university I was and what I was studying and passed the message of my life to people without knowing that my parents were there and the person he was talking about his their son.
The man spoke of what I am going through and how it is not my fault but God deeds and he prophesied parts of my future to them. Every person was amazed and speechless. This man even prophesied the time I will meet him for the first time (I am yet to meet him).
My family members were and are amazed, silent and speechless and the gap was miraculously shortened. But as time passed, they still revert back to who they were before that miraculous God intervention.
Since my parents compared me with other family members and saw me as a failure and lacking behind, I was totally unhappy and God come to me in a vision in November 2012. God told me that He is going to strike those family members favorable and seen as a success by my parents until an appointed time (which I know).
And God stroke strongly up to today and this will go on until an appointed time. God told me that He is going to show my family members who the true God is. My parents are clueless because the people the saw as success are unsuccessful now. (I will testify the details later).
The God I serve is a true living God.
3.     My education brought to a stop
From August 2011 up to today, God brought a stop to my education and this is one of the things the priest in the village said which I knew.
I will reveal details later for you to see that God is a true and living God.
All this consequences God told me in August 2011 have all come to pass and they may be harsh to me but at the long run, I have learned they are the best.  From my life testimonies you will see and believe that God is a living God.
As I said before, 'we live life forward but understand it backwards'. I now know why God did and does all these to me.
When God revealed the consequences of my disobedience to Him in end August 2011, He also gave me a promise. See the God promise (next).
God bless