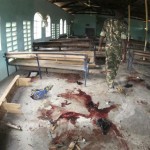 Since Kenya went to war with the Al-Shabaab in Somalia, Churches became the targets in attacks.  Even after the killing of the Muslim clergy Abdu Rogo, it is only churches which were attacked.
But, what the Kenya government does and is doing is to stand up and condemn the attacks, promises arrests of the culprits but we are yet to see one person arrested in connection with attacks targeting the churches. If one Mosque in Kenya is attacked, the entire Muslim community will rise and Kenya will not be a comfort zone.
A good example of this is seen after the release of the movie talking of 'Allah' and the entire Muslim world rose up and we know what they have done and are doing. Churches are been attacked, not one not two but several, but the Christians in Kenya are blind in a comfort zone.
There are several questions which we need to ask ourselves;
There are many religious groups in Kenya but why is it only churches are attacked not any other religious community?
Why has the Kenyan government not arrested any one in the attacks on churches?
Why are many Kenyan Christians blind in all what is happening?
I am not telling Kenyan Christians to rise and take arms but they must see the bigger enemy attacking them. They are in a war with a strong force and they must take their weapons of war; prayer. This war is beyond what Kenyans are seen, beyond what the media is portraying, it only needs spiritual weapon. Kenyan Church leaders stand up and tell your followers the truth, open their eyes and I send my big-ups to Pastor James Okumu for been in the forefront in this.
Christians in Kenya, open up your eyes and see the enemy.