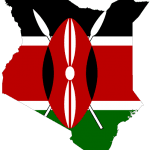 On 14th July 2012 in the wee hours of the morning i had a vision of Kenya carried to captivity. This is part of Kenya prophecy to me.
Kenya prophecy: – Vision of Kenya carried to captivity
An angel of God, dressed in pure white, stood before me holding a Bible in His hand and said, 'You have seen all what has befallen Kenya from back May 2011 up to today which you know but she is still asleep'.
Everything that has happened to Kenya came in my memory.
He opened the Bible specifically on the Books of Isaiah and Jeremiah and He proclaimed, 'this is the message to Kenya' and He read,
'Isa 22:17: Behold, the LORD will carry thee away with a mighty captivity, and will surely cover thee'.
From the book of Jeremiah, He read all Jeremiah's prophecy of Israel captivity.
After this, I was taken all over the land of Kenya for a revelation of how Kenya captivity will be and i was amazed.
Kenya Repent for God to Repent His wrath on you.
God bless