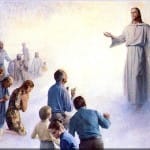 What is baptism? Baptism and christen are two different words. What many people call biblical baptism is christen.
What is Christen
Christen is: –
Baptizing as a sign of admission to the Christian church: – This is done after going through a program or a process in a Christian church for ones acceptance as a church member.
Giving a name to: – then after going through that program or process, one is accepted into that church through a sign of baptism and s/he is given a name.
Baptizing with the words 'In the name of the father, the son and the Holy Spirit' and water does not make a person a christian.
Many people have been baptized as a sign of admission or to give them a name and this is not the baptism talked in the Bible.
What is Baptism: – Biblical baptism
This is not done by any man but by God (Jesus Christ) to man. It is God who baptizes men, not men baptizing themselves and just doing it through uttering mere words.
When God baptizes you, you are sure that your name is written in the Book of Life but when man baptizes you, it is for other reasons and it does not guarantee eternal heavenly life.
Many Christians have been baptized by water or they know baptism is by water, but this baptism is not by Jesus Christ.
Then what is baptism by water and why is it not Jesus Christ's baptism?
Baptism by water
Baptism by water (John the Baptist baptism), is a baptism of repentance to prepare way for Jesus Christ baptism; baptism with the Holy Spirit and with fire.
Mt 3:2-3 …Repent, for the kingdom of heaven is at hand….Prepare the way of the Lord, make his paths straight.
Baptism by water was just before the promise (Jesus Christ), and Jesus was to replace it. He was to bring the new covenant, a new age (Age of Grace), of baptism with the Holy Spirit and with fire.
Mt 3:11: I indeed baptize you with water unto repentance: but he who is coming after me is mightier than I, whose shoes I am not worthy to bear: he shall baptize you with the Holy Ghost, and with fire.
From the article, 'the different relationships the Holy Spirit has with men', you have seen the three relationships ; with you, in you and upon you.
Baptism with Holy Spirit happens when the spirit moves from dwelling with you and comes to dwells in you, while the baptism with fire is the coming upon or empowerment for the imparting and radical use of a person for the ministry.
Realize that John the Baptist was to decrease and decrease as Jesus increased and increased.
John 3:30: He must increase, but I must decrease.
In addition, John the Baptist had to die before Jesus died (Mt 14:10: And he sent, and beheaded John in the prison).
Answer yourself why?
Also Jesus was to be baptized by water by John the Baptist in order to confirm John the Baptist's ministry and for God to reveal 'the Lamb of God' to john the Baptist and to the world.
The time John was thrown in the prison is the same time Jesus started preaching.
Mt 4:12-13, 17: Now when Jesus had heard that John was cast into prison, he departed into Galilee. And leaving Nazareth, he came and dwelt in Capernaum, which is upon the sea-coast, in the borders of Zabulon and Nephthalim. From that time Jesus began to preach, and to say, Repent: for the kingdom of heaven is at hand.
This was because John was a foreshadow preparing the way for Jesus and a servant does not rule or serve with the master.
Jesus ministry came after John the Baptist's ministry, thus baptism by water was replaced by baptism with the Holy Spirit. But realize that Jesus baptized no one before He died and resurrected, only His disciples where baptizing.
When therefore the Lord knew how the Pharisees had heard that Jesus made and baptized more disciples than John, Though Jesus himself baptized not, but his disciples (John 4:1-2). Why?
Because Jesus had not ushered in the new era of Grace which has a comforter; the Holy Spirit. Remember the era of Grace, which we are in (the eight ages or dispensation of God in saving man), started immediately after Jesus resurrection from the death.
In His resurrection, the Holy Spirit was realized, thus, the Holy Spirit was ready to dwell in whoever accepted Him – baptism with the Holy Spirit, but the coming upon (the power) was yet to be sent.
The power was to be sent after Jesus ascension reason Jesus Christ went ahead to baptize His disciples with fire after His ascension and this is how it was.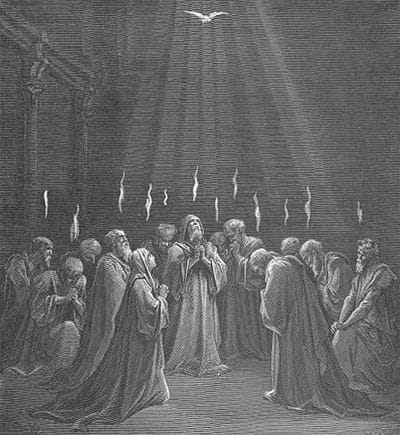 'Then the same day at evening, being the first day of the week, when the doors were shut where the disciples were assembled for fear of the Jews, came Jesus and stood in the midst, and said to them, Peace be unto you. And when he had said so, he showed them his hands and his side. Then the disciples were glad, when they saw the Lord. Then said Jesus to them again, Peace be with you: as my Father hath sent me, even so send I you. And when he had said this, he breathed on them, and sad to them, Receive you the Holy Ghost (John 20:19-22). Jesus baptized His disciples with fire after His ascension to heaven when they where in Jerusalem waiting for the promise (Acts 2:1-4)'.
The way Jesus baptized His disciples is the same way He does to us, His disciples today (the baptism with Holy Spirit and with fire).
When you truly accept Christ in your heart, the Holy Spirit comes and dwells in you and this is the baptism with the Holy Spirit, but you are not yet empowered. Empowerment (coming upon) of the Holy Spirit happens later after first He (the Holy Spirit) has got into you (dwelling in you).
Nothing moves the Holy Spirit from dwelling with you to dwelling in you. The Holy Spirit is neither moved by water nor by lying of hands nor prayers nor anything else you can think of, but by true repentance acceptance and believing in Jesus Christ. He knows when one has truly accepted Christ Jesus in his/her own heart and it is when He (Holy Spirit) moves from dwelling with the person to dwelling in the person. This is the true baptism which is done by the Holy Spirit (Jesus) not by man and it is the baptism with the Holy Spirit.
This may happen to any person anywhere and you do not need to be baptized by water.
I am not against baptism by water because it a sign of repentance but true repentance happens truly from the heart to God not to man and its only God who reads the hearts of men and knows.
And it is also a sign to human beings to 'feel that they have been baptized' and it prepares the way for the baptism by Holy Spirit and with fire. After baptism by water, one must wait for the baptism with Holy Spirit which is done by Jesus Christ.
Baptism by water is not a sign to show that one is  born-again or a christian because many are being baptized without believing or even knowing who Jesus is. Many are being baptized for many reasons not even accepting Jesus Christ in their life.
The problem with today's Christianity is that some people are been baptized with water when in reality they do not know Jesus Christ nor truly accepted Christ in their hearts. They are being baptized because it's a ritual, a law, a passage right and a program in the churches (Christen) and the Holy Spirit does not come and dwell in them and they remain worldly; children of the world; man-made Christians.
Another problem is that after being baptized by the Holy Spirit, some feel that they are ready to go out and carry the great commission. They lack the baptism with fire thus the empowerment and they find themselves struggling doing a work for God not the work of God.
The coming upon of the Holy Spirit to a person happens in different times with the coming in. Holy Spirit has first to be in you for you to be empowered by Him.
For some it takes an hour, a day, or days of waiting, and to others it takes months even years for the spirit to come upon them. It's only Jesus who knows when He is going to do it to you and at the right time. Coming upon happens for the imparting and radical use of a person for the ministry.
In Acts 8 we are told that Philip went down to the city of Samaria, and proclaimed to them the Christ. Many gave heed to the gospel and were baptized, both men and women. But the Holy Spirit did not descend (fall) to them on that time of baptism. Peter and John had to come down to Samaria from Jerusalem to pray for them to receive the Holy Spirit.
It is said, '…they send to them peter and john who come down and prayed for them to receive the Holy Spirit, for it had not yet fallen on them, but they had only been baptized in the name of the lord Jesus'(verse 14-16).
When you are baptized it may not be the same time when the spirit comes and dwells in you, but the spirit comes in different times to different people.
So baptism by water just confirms but it does not conifer. It is an outside sign or seal like circumcision. It does neither save anyone nor take anyone to salvation nor is it a guarantee to eternal life. A man believes in her/his heart and it is through his/her heart that s/he is saved.
Jesus Christ has favor for some of us who He sends the Holy Spirit in and immediately upon them (At once), without them being baptized by water. If you receive this baptism first, do not go back to human beings for baptism by water. Jesus Christ (the creator) is powerful than men (the creation).
But if you receive baptism by water first, wait for the baptism with the Holy Spirit and with fire by Jesus Christ; the Holy Spirit to move and dwell in you and come upon you. Your heart is what determines. True repentance, acceptance and believing in Jesus Christ will move the Holy Spirit to dwell in you thus you will be baptized with The Holy Spirit by Jesus Christ Himself.
All glory and honor is to you, Jesus Christ. Amen!