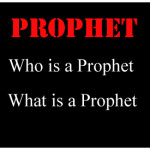 A prophet is a person with the gift of prophecy. Prophecy is a gift of the Holy Spirit.
1 Cor 12:4, 10: Now there are diversities of gifts, but the same Spirit. To another the working of miracles; to another prophecy; to another discerning of spirits; to another divers kinds of tongues; to another the interpretation of tongues.
Eph 4:8, 11: Wherefore he said, when he ascended up on high, he led captivity captive, and gave gifts unto men. And he gave some, apostles; and some, prophets; and some, evangelists; and some, pastors and teachers.
A prophet is part of the five-fold ministry; part of Godly church leadership structure. See church leadership structure.
A congregation without a prophet is blind.
God knows His prophets even before they are formed in the womb. He sanctifies and ordains them (prophets) for their prophetic ministry even before their birth. This is clearly revealed when God was sending prophet Jeremiah to carry out his appointed ministry.
Jer 1:5: Before I formed thee in the belly I knew thee; and before thou came forth out of the womb I sanctified thee, and I ordained thee a prophet unto the nations.
God creates, sanctifies and anoints a prophet before His birth but a prophet does not immediately start his/her ministry. God has appointed time for each of His prophets for the ministry.
Jesus was the son of God and God even before His birth, and He waited until He was about 30 years to start His ministry. As Jesus waited, God waits until His appointed time to send a prophet for the ministry but the prophet does not know His time until God reveals Himself to the prophet.
Num 12:6: And he said, Hear now my words: If there be a prophet among you, I the LORD will make myself known unto him in a vision, and will speak unto him in a dream.
I never knew in my life before that I was born a prophet until God revealed Himself and my prophetic ministry to me. I was even amazed when God revealed my life in a screen like a movie from the time I was born and how He has been with me all through. See my visit to heaven.
Who is a prophet?
A prophet is God's messenger. S/he speaks the voice of God to people. God speaks through Him.
Det 18:18: I will raise them up a Prophet from among their brethren, like unto thee, and will put my words in his mouth; and he shall speak unto them all that I shall command him.
A prophet reveals Jesus Christ through prophecies, revelations and gives God commandments to the people. A prophet gives the church direction, leads like Moses and Jesus. S/he is like an eye to the church reason a church or congregation without a prophet is blind.
As there were prophets in early times, prophets like Elijah, Samuel, Jeremiah, Joel, etc, God today has His prophets. In today times, the End Times, God has out-poured His spirit as prophesied by Joel reason we have more prophets than in early times.
Since a prophet is God's voice, there are consequences of ignoring prophets.
Next we are looking at the calling of a prophet.
God bless you