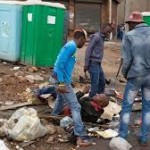 Xenophobic killing in South Africa is prophecy being fulfilled as God revealed to me on 18th August 2011.
See Kenya and South Africa trouble prophecy
Xenophobic Killing: – South Africa Prophecy Being Fulfillment
Xenophobic killing has arisen in South Africa
South Africa are killing foreigners and chasing them out of the land
Violent mobs have targeted foreigners for 'stealing' local jobs
Foreigner's shops are torched. Streets are barricaded. Tyres are set alight. People are stabbed, shot and burned to death. Mobs hound Somalis, Mozambicans, Zimbabweans, Pakistanis and Bangladeshis from their homes and businesses as reported by theguardian
http://www.theguardian.com/world/2015/apr/20/south-africa-xenophobic-violence-migrants-workforce
"We could have been killed as these South Africans hunted for foreigners, going from door to door," Salanje, who was a domestic worker in the Indian Ocean port city of Durban, told AFP
DailyMail reports that in Johannesburg, Malawian immigrant, Samuel Idrssa, described how his friend was stabbed and set on fire by a mob.
South Africa South Africa South Africa
God's wrath is aroused against you
If South Africans will not hearken to the voice of God and repent
I see more trouble coming to you
I see South Africans dying in large numbers
I see blood flowing in the land of South Africa
As it was during the days of apartheid so will it be
Repent Repent Repent
South Africa Repent