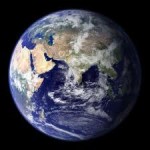 Earthquakes and Earth tremors are coming. The earth is about to be shaken as revealed to me on 22nd May 2014.
Joel 3:16: The LORD also shall roar out of Zion, and utter his voice from Jerusalem; and the heavens and the earth shall shake: but the LORD will be the hope of his people, and the strength of the children of Israel.
And this is the revelation;
Earthquakes! Earthquakes! Earth tremors coming! Jesus is coming!
A series of earthquakes and earth tremors shook the earth,
One after another,
Never ever experienced on earth,
Walls and trees shook greatly,
I run to open grounds,
People came out of their houses to open grounds,
For walls and trees not to fall on them,
In the night, people slept outside their houses,
As the earth quaked continuously for a day and a night,
When morning came,
The earthquakes and tremors seized,
People were frightened,
And the voice of the Lord came that morning to the world saying,
'Repent for the kingdom of heaven is at hand'
O inhabitants of earth!
O creatures on earth!
O earth!
Hear the voice of the Lord!
Repent for the kingdom of heaven is at a hand