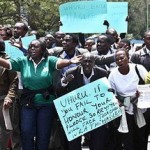 Kenya prophecy fulfilled as Kenya heads to her final God judgement.
On 18th August 2011, I had a vision of trouble in Kenya has Kenya heads to her judgement. See the oracle of two countries in trouble.
God is just and before He judges, He reveals Himself with signs and sends His chosen to the people.
He has revealed His anger and oncoming judgement to  Kenya but Kenya has not repented.
Kenya prophecy fulfillment
From the oracle of two countries in trouble, you see how several things are and were aligned to happen to Kenya, one being workers strikes.
God was to take Kenya through a series and period of strikes and this is what happened from September 2011.
I revealed how strikes will be the order of the day as the government and its citizens were collided head on by God.
From doctors, lecturers, teachers, Kenya airways workers, police and many citizens in the country were up demanding a certain right.
You do not need to be a Christian to know that something is wrong in Kenya and a hand greater than many can see is in control.
I am happy because some churches and Christians have started seen light.
All Christians and citizens of Kenya must come back to God, repent and He will definitely repent His wrath on you as He surely told me. Soften your hearts and hear the voice of  God.
The hand working wrath on Kenya is beyond Kenyans reach.
Hear the voice of God Kenya: Repent
God bless