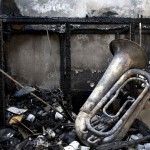 Kenya Prophecy; God wrath on Kenya churches is revealed.
Several churches in Kenya were burned and others broken into in Mombasa violence.
Christians enriched with God spiritual eye can see how God is revealing His oncoming wrath on Kenya and her churches not spared.
God wrath on Kenya Churches revealed
I talked of how God is fueling Kenya in a way that just a strike of a match stick, Kenya explodes. God has achieved this and He is going to achieve greatly before and after Kenya elections.
More strikes, unbelievable acts and citizens been collided head on with the government are on the way. Also the Muslim community in Kenya will be given power than Kenya christian churches and the government will swift attention to the Muslims in Kenya.
Kenyan churches led by their leaders are sunk in a miracle, prosperity and sign gospel, the truth being laid and hidden under the carpet.
Instead of building Christians faith, they are busy in signs, prophesying, preaching and teaching prosperity a false damnation gospel. God is angered by what is happening in Kenya churches.
Church leaders stated that they are going to sit down with the Kenya government even taking the government to court.
Do you need to take government to court when God is the true judge?
What is happening in Mombasa has no involvement with the government but only God.
Church and state are two different identities and the church in any way must not mix with the state. Talking with the government as revealed to me by the spirit of God will not solve instead the gap between the church and the state will broaden.
If Kenya, the church leaders and all citizens have an ear, hear the voice of God. God wants you only to repent and return to Him; He will heal you and repent His entire wrath on you.
Word of advice to Kenya church leaders: – instead of you talking with the government, call a nation-wide prayer, forgiveness and repentance week.
Kenya repent