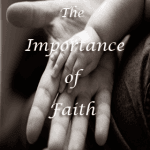 What is the importance of faith? Faith is the basic fundamental root of Christianity.
To be called a christian you need faith. See what is faith.
The importance of faith cannot be stressed enough by man but only by God.
16 Importance of faith
1. To please God
God is pleased with men of great faith and there is no other way a man will please God.
Heb: 11:6: But without faith it is impossible to please him: for he that comes to God must believe that he is, and that he is a rewarder of them that diligently seek him.
2. To be accounted or reckoned as righteous
Abraham was accounted or reckoned as righteous because of his faith. (Gen: 15:6).. And coz of his faith it was accounted to him as righteous.
It is only by great faith in Jesus Christ that we are reckoned or imputed as righteous.
Rom 4:23-25: Now it was not written for his sake alone, that it was imputed to him; but for us also, to whom it shall be imputed, if we believe on him that raised up Jesus our Lord from the dead; who was delivered for our offenses, and was raised again for our justification.
3. To be Sons of God
By great faith in Jesus Christ we are regarded as sons of Abraham thus, sons of God and we are blessed by God and the blessings God to Abraham falls on us.
Gal: 3:6-9: Even as Abraham believed God, and it was accounted to him for righteousness. Know ye therefore that they which are of faith, the same are the children of Abraham. And the scripture, foreseeing that God would justify the heathen through faith, preached before the gospel unto Abraham, saying, In thee shall all nations be blessed. So then they which be of faith are blessed with faithful Abraham.
4. To live forever
It is stated, 'he who through faith is righteous shall live' (Gal 3:11)
5. Justification is by faith
Rom 5:1: Therefore being justified by faith, we have peace with God through our Lord Jesus Christ.
6. For prayers to be answered
God answers prayers of people with great faith in Him.
Many people are doubters, we do not believe that we will receive what we have asked and He does not answer and we wonder why, yet we keep praying and praying even fasting days and nights?
Mk 11:22-24: And Jesus answering said unto them, Have faith in God. For verily I say unto you, That whosoever shall say unto this mountain, Be thou removed, and be thou cast into the sea; and shall not doubt in his heart, but shall believe that those things which he saith shall come to pass; he shall have whatsoever he saith. Therefore I say unto you, What things soever ye desire, when ye pray, believe that ye receive them, and ye shall have them.
7. Not to flatter God
Praying or talking to God without great faith is flattering Him.
Psalms: 5:9: For there is no faithfulness in their mouth; their inward part is very wickedness; their throat is an open sepulcher; they flatter with their tongue.
8. To receive promises
Just as Abraham received all promises by faith, we (Christians) also receive God's promises by faith.
Rom:4:16: Therefore it is of faith, that it might be by grace; to the end the promise might be sure to all the seed; not to that only which is of the law, but to that also which is of the faith of Abraham; who is the father of us all, Rom: 4:13: For the promise, that he should be the heir of the world, was not to Abraham, or to his seed, through the law, but through the righteousness of faith.
9. To be hopeful
God word brings hope in our life and it is only by faith that we believe in it.
We must have faith in God that goes against our hope to hope in what God says. Abraham was as good as dead, with Sarah barren with no hope of a son, but he had to go against his hope to believe and hope in God for a son.
Rom: 4:18-19: Who against hope believed in hope, that he might become the father of many nations, according to that which was spoken, So shall thy seed be. And being not weak in faith, he considered not his own body now dead, when he was about a hundred years old, neither yet the deadness of Sara's womb
As we hope against our hope we should not grow weak in faith but strong, fully convinced that God is able like Abraham. (See Rom: 4:20)
Rom 4:21: And being fully persuaded that, what He had promised, He was able also to perform.
10. To walk in light in this world
2 Cor:5:7: (For we walk by faith, not by sight)
11. Faith is a shield
Ephesians 6:16 Above all, taking the shield of faith, wherewith ye shall be able to quench all the fiery darts of the wicked.
Faith is a shield from world wickedness and it is a sure victory and freedom from fear ,worries and the danger of sudden death and pain.
12. For our sins to be forgiven
By faith God forgives sins.
Mark 2:5 Seeing their faith, Jesus said to the paralyzed man, 'My son, your sins are forgiven'.
13. To enter and inherit the kingdom of heaven.
Mark 10:15 I assure you, anyone who doesn't have their kind of faith will never get into the Kingdom of God.
14. Source of peace and joy in our life
Romans 5:1[ Faith Brings Joy ] Therefore, since we have been made right in God's sight by faith, we have peace with God because of what Jesus Christ our Lord has done for us.
15. Source of protection
1 Thessalonians 5:8 But let us who live in the light think clearly, protected by the body armor of faith and love, and wearing as our helmet the confidence of our salvation.
16. Assurance of salvation
Hebrews 10:39 But we are not like those who turn their backs on God and seal their fate. We have faith that assures our salvation.
Hypocrisy
In James we read that justification is by works not by faith alone
Jas: 2:24: You see then how that by works a man is justified, and not by faith only.
James was addressing those who believe with their heads not from their hearts; the hypocrites and frauds.
The truth is that, though we are justified by faith alone, the faith that justifies is never alone; it produces moral fruit; it expresses itself 'through love' (Gal. 5:6); it transforms one way of living; it begets virtues thus works.
True great faith transforms a person from being humanly, fleshly and worldly to being spiritual and heavenly. Salvation is not by dead works and our works do not merit salvation but true faith from our hearts which produces love thus good works.
God bless